Melissa Duran, CPDT-KA, CDBC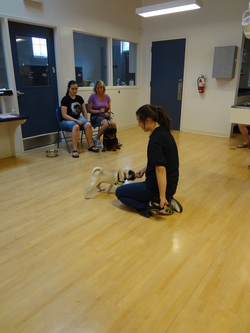 Melissa Duran, CPDT-KA, CDBC is a Certified Professional Dog Trainer by the
Certification Council for Professional Dog Trainers as well as a Certified Dog Behavior Consultant by the International Association of Animal Behavior Consultants
and is a member of the
Association of Professional Dog Trainers
. She is also a certified
American Kennel Club Canine Good Citizen
evaluator. Melissa apprenticed under a veterinarian and a Cornell-certified canine behavior professional for five years before she began teaching classes of her own.
She also has fourteen years of experience as a veterinary technician. This valuable blend of veterinary knowledge and training experience enables her to better evaluate each pet's needs and problems. Melissa has also studied Psychology at the University of North Carolina at Chapel Hill.
Before starting Thinking Dog, Melissa taught pet dog classes and was responsible for the successful implementation of doggy day camp programs at local animal hospitals, where she utilized her dog behavior knowledge to optimize each dog's day camp
experience.
In addition to her teaching and veterinary work, Melissa volunteers and provides training services for several animal rescue groups. She is also training her two rescue horses using positive motivation training methods. She continues to expand her knowledge by attending behavior seminars, classes and conferences. Melissa lives in Wake Forest with her newest rescue dog, Primrose.
---