Socialization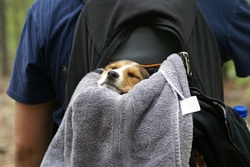 Socialization is a process that involves exposing a young puppy to new people, places, animals, sounds, environments and objects in a positive way to allow him to form a lasting positive (or neutral) association. Dogs are animals and therefore have certain built-in defense mechanisms, such as responding fearfully to unknown or potentially dangerous stimuli and situations. Puppies are born with the ability to form lasting impressions about what is safe or dangerous to prepare them for adult life. Anything that a dog was not exposed to in puppyhood automatically falls into the dangerous category.


Extensive early positive socialization experiences must occur in order for a puppy to develop into a friendly, confident dog. This is not something that can be done at a later date. Insufficient early socialization can result in aggression, phobias and other severe behavior problems. Most animal behaviorists, trainers and veterinarians agree that positive socialization is one of the most important things for pet owners to provide for their puppies. Below is a timeline of important developmental periods.


Stages of development:

0-7 weeks- Puppies are learning appropriate social behaviors with other dogs by interacting with their mothers and littermates. They learn such things as bite inhibition, submissive and calming behaviors, communication and confidence with other dogs. Puppies that are raised away from the mother and littermates or that are weaned too early may never be able to learn these lessons completely.

7-8 weeks- Ideal time for going to a new home. This is the best time for forming strong bonds with people. Research has even pinpointed the ideal time for going into a new home as the puppy's 49th day.

8-10 weeks- First fear imprint period. The puppy is especially impressionable now and special care should be taken to avoid any negative experiences. Equal care should be taken to expose the puppy to as many positive new experiences, people and things as possible. This is one of the most important periods of your puppy's life and it plays a huge role in determining the adult personality of the dog.

8-16 weeks- Critical period for socialization. The puppy's critical socialization period closes at sixteen weeks. This means that the puppy's ability to learn positive associations with people, places and things begins to decrease. A puppy that has not seen many people by the age of sixteen weeks will in all probability always be afraid of new people. There are no 'do-overs" for the socialization period. Positive socialization is absolutely vital!

4-6 months- This is the pre-adolescent period. Puppies begin to become more independent and confident. Many puppies begin to stray further away from their owners. Training is important at this age because the puppy is testing his environment and boundaries.

6-18 months- This is the beginning of adolescence and the most trying period of dog ownership. Most dogs in animal shelters fall into
this age category. Many puppies become destructive and unruly and their tolerance for boredom will be low. Continue training and stay consistent with the puppy. Do not expect your puppy to act like a grown-up just because he looks like one.

12-24 months- This is when most dogs reach emotional maturity. Tendencies towards assertiveness and aggression may arise at this time.
This is also the time when a lot of the destructive behaviors that were so troublesome in adolescence begin to decrease.

Socialization should continue throughout a dog's life. All the effort that was put into socializing the dog as a puppy can be undone if the dog doesn't continue to have opportunities to see people, other dogs and new places. This is especially true in regard to other dogs. A dog that does not have the opportunity to play and interact with other dogs will seem to forget how to communicate with them. A doggy daycamp or activity group supervised by trained dog behavior professionals can be very helpful in maintaining your dog's dog-language skills.